A murder investigation has been launched after a 16-year-old boy was stabbed to death n Coventry.
The young victim was found injured in the Wood End area of the city at around 11.40pm on Saturday, but died a shrt time later in hospital, according to West Midlands Police.
Two other teenagers with less serious injuries were also taken to hospital.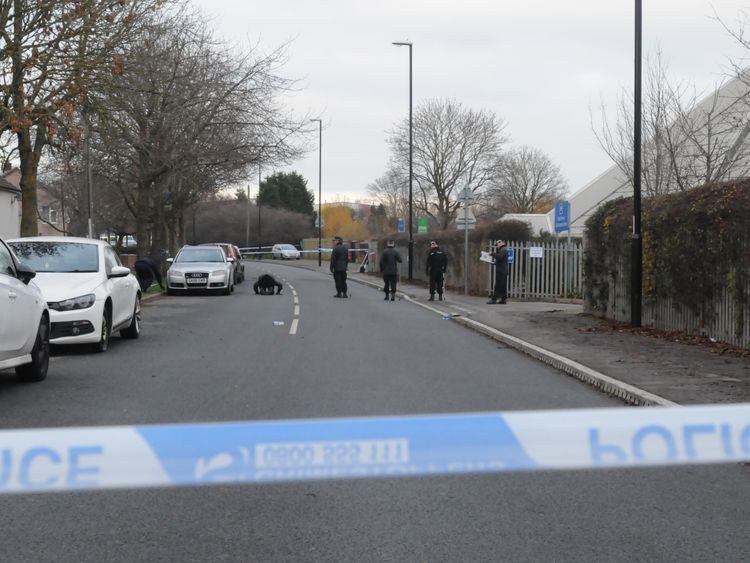 The boy's family have been informed and the area around Deedmore Road has been cordoned off as investigators examine the scene.
Forensic teams have also checked drains as well as around bins and vehicles in the vicinity.
Searches also took place in the grounds of the nearby St Patrick's Catholic Church, where bunches of flowers had been left against a wall.
One woman who visited the scene, Rebecca Rushton-Nesbitt, described the victim as a "lovely boy".
The 18-year-old said: "I heard about what happened. It's so sad, I can't believe he's gone to be honest.
"He was just an ordinary young boy. He wouldn't do anything to hurt anybody."
Detective Superintendent Matt Markham said: "A young boy has tragically been killed and we are determined to find out why this has happened.
"We are talking about the terrible loss of a 16-year-old boy, someone who had their life to live, and we will be working round the clock to find who was responsible.
"We are following a number of active lines of enquiry and would urge that anyone with information which could assist our enquiries to call us as soon as possible."
Fidel Glasgow, 21, the grandson of The Specials star Neville Staple, was stabbed to death in Coventry in September.
Following the murder, Mr Staple said his family were devastated and urged fans to "turn our pain into a message".
"Let's show the young people that this knife crime has to stop," he said.
Police have urged anyone with any information about Saturday's incident to call 101 or speak to Crimestoppers anonymously on 0800 555 111.
Read the full story here