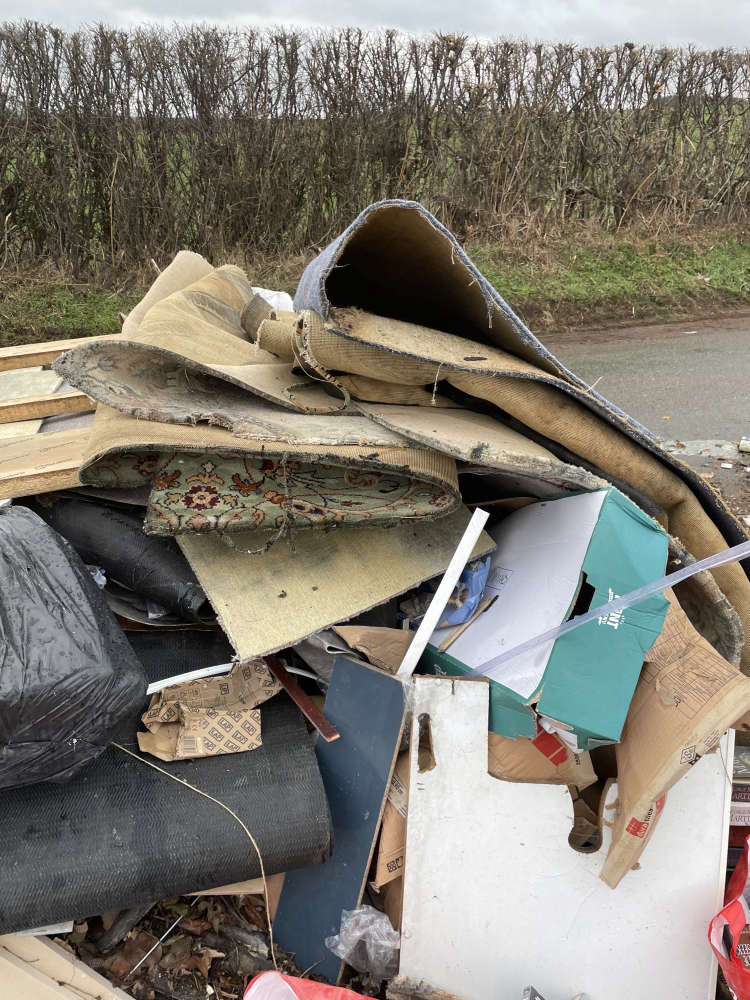 Fly tipped rubbish at Hanchurch
A senior councillor is calling on residents and businesses to support efforts to help tackle rubbish being dumped illegally in Stafford Borough.
Recently more than £1000 in fines have been handed out to people for various fly tipping offences. The environmental crimes included a discarded fridge in Stafford and household waste on the A51 near the village of Hixon.
And the borough council is also warning householders to make sure their waste is disposed of properly as they can face being fined or prosecuted under fly tipping legislation.
A series of fixed penalty notices have been issued over recent months with:
· A £400 penalty for a Wolverhampton man who dumped a fridge on a grass verge in the Holmcroft area of Stafford
· A woman from the village of Weston who was given a £200 fixed penalty after her waste ended up on the A51
· A man from Lightwood in Stoke on Trent whose old carpet (pictured) was found in Dog Lane, Hanchurch. He was ordered to pay £200.
· A woman from Newcastle under Lyme was fined £200 after waste from her home was found in Chase Lane in the village of Tittensor
· And finally, a local man was given a £100 fixed penalty notice after bags of household waste were dumped in Marston Road, Stafford
Many offenders claim to have paid a 'white van man' to get rid of their rubbish. But the borough council say residents should only use registered waste carriers or could find themselves facing punishment if rubbish is discarded illegally.
Councillor Ian Fordham, Cabinet Member for Environment, said: "Fly tipping, littering and other environmental crimes are a blight on our communities. They can cause environmental damage, they attract anti-social behaviour, make areas look untidy, have an adverse impact on the quality of life for our residents, and can ultimately be detrimental to attracting investment to our area.
"I would ask people to report any such incidents, in confidence, to us. It is with the public's help that we are able to trace those responsible - and I hope that the fines received will discourage others from breaking the law."
He added: "Thank you to all those in the community who continually support our efforts to keep our wonderful borough tidy. We all have a duty to make sure we look after our area - so let's not allow a small minority spoil it for the vast law-abiding majority."
Some tips to avoid breaking the law:
1. Always check credentials of people offering to take rubbish https://environment.data.gov. uk/public-register/view/search-waste-carriers-brokers
2. Ask where they are going to dispose of the waste
3. Always get a receipt
For more information www.staffordbc.gov.uk/alternative-waste-collectors
You can contact the council in confidence to report environmental crimes at grimewatch@staffordbc.gov.uk or 01785 619402.