Two British IS fighters, known as "The Beatles" have been moved out of their Syrian prison and are now in US custody, according to US officials.
The two men, El Shafee Elsheikh and Alexanda Amon Kotey, were part of a group of four men from the UK who were in an IS terror cell known as The Beatles – named due to their recognisable English accents.
Elsheikh and Kotey were captured in 2018 trying to flee the region, and have been in a Syrian prison since then.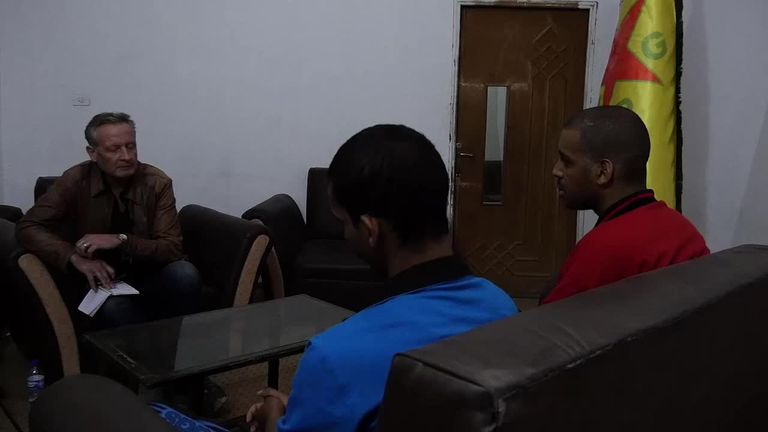 US officials confirmed that the pair were moved out of Syria by military and law enforcement personnel to make sure that they could not escape as a result of the break down of security following the Turkish invasion in the country.
An official from the US said that the pair had been moved to Iraq "out of an abundance of caution", adding that the US was still committed to bringing them to justice.
Speaking to Sky News in 2018, the pair warned that IS were planning new attacks in Europe, and refused to condemn the terror attacks in London and Manchester.
The terror cell beheaded journalists from the UK, US and Japan, as well as aid workers and Syrian soldiers in videos released by IS to the world.
James Foley, a US journalist, became the first US victim of IS, after he was beheaded by Mohammed Emwazi, or Jihadi John, in 2014 after he was captured two years prior. Emwazi claimed the killing was in response to US airstrikes in Iraq.
Jihadi John was eventually killed in a US airstrike in 2015, with another, Aine Lesley Davis locked up in a Turkish prison.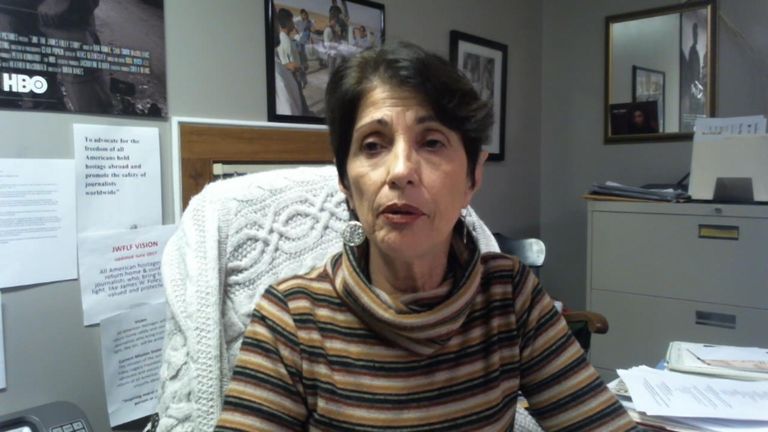 Speaking to Sky News on Wednesday evening, James Foley's mother Diane said that she was "grateful" that Elsheikh and Kotey had been placed is US custody.
She said: "I certainly don't want them to escape. I very much want them to be extradited to the United States and brought to criminal court room. where they can have a fair and open trial and get answers to the many questions we have, such as where is Al Baghdadi (the leader of IS)."
Ms Foley added: "I just want them brought to trial, I don't want them treated badly.
"If they are found guilty of human rights crimes such as torturing and killing… they should spend the rest of their lives in prison… I certainly do not want the death penalty."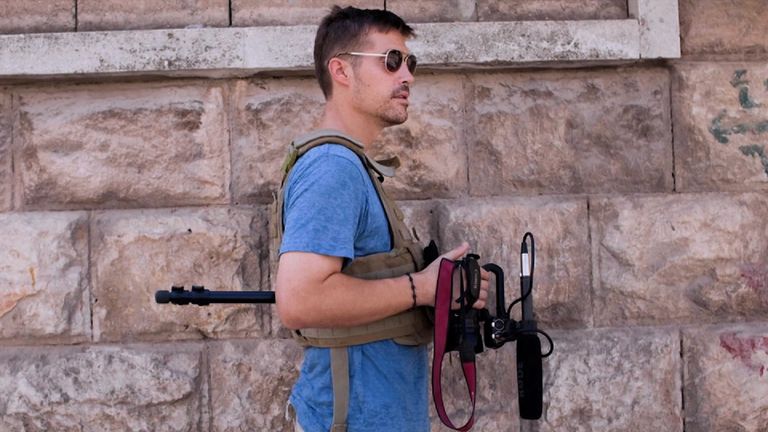 Turkey has begun an offensive against the Kurdish forces in Syria, with Turkish President Recep Tayyip Erdogan saying the aim is "to prevent the creation of a terror corridor across our southern border, and to bring peace to the area."
He added that Turkish armed forces, together with the Syrian National Army, had launched what they called Operation Peace Spring against Kurdish fighters.
:: Listen to the Daily podcast on Apple Podcasts, Google Podcasts, Spotify, Spreaker
He added: "We will protect the territorial integrity of Syria and free the people of the region from the clutches of terror."
Kurdish forces were responsible for guarding the thousands of IS prisoners in Syria, but that is now expected to be less of priority due to the Turkish operation in the country.
Officials in the US said that some Kurds had left prisons to join the fighting, but had not gone in large numbers.
However, fears still remained that prisoners could use the instability to escape jail and rejoin IS.
US President Donald Trump confirmed at the White House that some of the "most dangerous" prisoners had been moved, but stopped short of saying how many had been transferred.
Read the full story here